About Us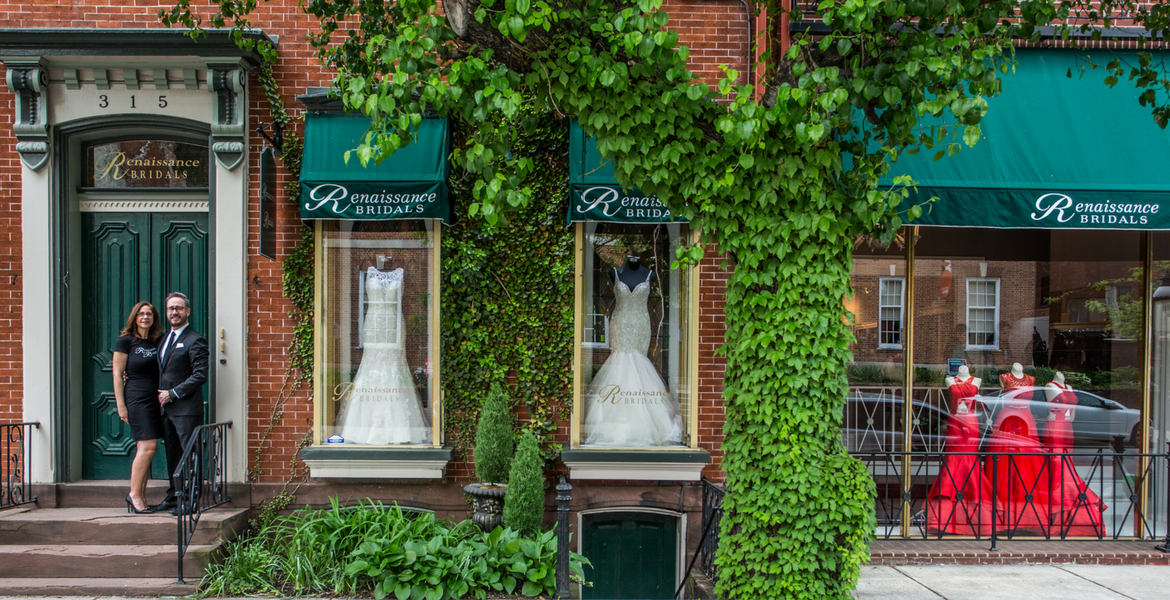 Renaissance Bridals is a fashion house for women of all ages. Our collections include everything from glamorous bridals, fashionable bridesmaids, upscale mothers', fun prom, and special occasion attire. Recently receiving the "best of" award in formalwear, Renaissance can help you create a memorable impression.

Owners Jon and Beth Smith have provided the area with modern fashion, fine fabrics and cutting edge designs for over 26 years. They attend major shows throughout the states as well as Europe to personally select their inventory. Their love of fashion is evident and awaits your arrival. From the moment you walk thru the doors of the beautiful showroom, you will realize that you are about to experience something different- a Renaissance Experience!

Renaissance Bridals, where Passion meets Fashion
FAQ


1. Do I need an appointment to shop for bridal?
Yes, bridal is by appointment, therefore allowing a highly trained consultant to stay with you and help you to select the perfect gown. It's like having your own personal shopper.
2. What should I expect from

m

y appointment?
Your consultant will ask you various questions about where you are in your gown search. She will also learn about your type of wedding and your personal style. She will then choose gowns for you to try on and assist you in the dressing room. Her knowledge and guidance will help you to make the best choice possible.
3. Do you allow pictures?
Due to strict manufacturer's copyright rules, pictures are not permitted until your gown has been purchased.
4. Who should I bring with me to my consultation?
While that is a personal decision, we strongly suggest that you limit the amount of people that you bring along. Often, too many opinions can create a stressful and confusing situation thus making the experience not as enjoyable. Share your shopping trip with those who know you best and share your taste in fashion.
5. What is the ordering process?
Bridal gowns take 6-9 months to receive in the store. Your consultant will professionally measure you and show you the manufacturer's size chart. She will suggest a size;however you pick your size. For Bridal, half deposit is required at that time, and the balance is due once the garment has been received. Bridesmaids shipping varies from each company and can be discussed while in our store. Bridemaids, Prom and Homecoming must be paid in full at the time of ordering. We accept cash, visa and mastercard, and checks. Personal checks are not accepted for final pick up.
6. How can I order my bridesmaids gowns since they are unable to come into your store?
Your dresses should be ordered from the same store which will allow them to be cut from the same dye lot of fabric. Noticeable differences can occur otherwise. We will email the bride all of the required paperwork including a sales contract and size chart. Once returned with full payment (which can be done over the phone) the order will be placed. Stressless and easy, allow us to handle your out of town attendants.
7. What is the advantage to shopping in your store instead of the internet?
The customer service that you will receive is not available on the internet. The available inventory and coordinating accessories that will finish your look is our attention to detail. We care about you and your wedding and we want you to be as stressless and happy as possible. Please allow us to deal with manufacturers and shipping problems that can occur. As an authorized dealer of any line that we carry, we have the ability to insist on quality. Their garments are mass produced which often results in defects and flaws. We place high standards in every order placed. We will insist on a garment being replaced if needed. This is unavailable on the internet and can result in an undesirable situation. We will steam and press your gown as well as store your garment at no additional charge. Is an internet deal worth defective merchandise or worse yet, not receiving it at all? The old quote is definitely worth considering--"All that glitters isn't always gold!" We want your wedding to sparkle and shine.
8. Why do you do all of this?
It's simple. We care about you and your shopping experience. You are important to us and providing you with the best customer service is what we are all about. It is our sincere pleasure to share this special occasion with you, and our greatest joy is watching your face light up when the perfect gown has been selected. We wish to offer you the very best and easiest journey in this process. Please allow us the opportunity to give you a Renaissance Experience and a wonderful cherished memory.